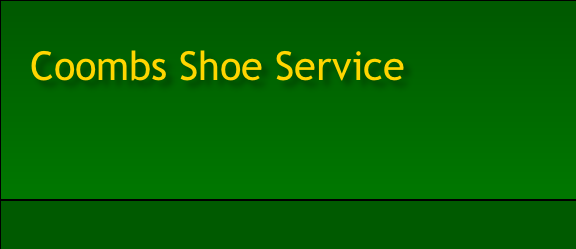 ---
For nearly 100 years Coombs has been the premier footwear repairer in the city of Sydney, looking after generations of families. A fixture in the Strand Arcade since 1920, Coombs' reputation has grown and have now satisfied customers from all over the world. Coombs is also an authorised R.M.Williams repairers so, for leather-goods repairs and expert advice on shoe care, visit Coombs.
SERVICES
Some shoes and boots must be repaired in the traditional way while other more modern innovations require completely new technology. Nowadays, shoe repairers are most likely to employ a blending of technologies to achieve traditional results. So, if you think all we do is replace heels, you're in for a pleasant surprise. We can repair or alter practically every part of a shoe or bag, no matter what needs doing.
As Far As Shoe And Bag Repairs Are Concerned, We Can:
○
Replace any or all of the base of the shoe including insole, shank, leather or rubber fullsole, top piece and non-slip soling material. Fullsoles are stitched into place for maximum strength. In the case of R.M.Williams, Doc Martens, Timberland, Caterpillar, Rockport and many other well known brands, we can supply an original brand name sole or match it to near perfection.
SERVICES-Replace the entire heel section of a ladies shoe if, for example, it should snap as sometimes happens. We can match the original heel block or, at your request, attach a different type of heel, effectively changing the style of the shoe.
– Restitch seams and patch holes invisibly. In cases where it may not be possible to make a repair invisible, we will make it as inconspicuous as possible.
– Replace zippers, straps, elastics and lace eyelets. Even on a strapless shoe, a strap can be fitted for either comfort or fashion. The wide elastic sides on R.M.Williams type boots can also be replaced.
– Re-mould new rubber soles onto old sports shoes by mimicing the original manufacturing process. Usually, the soles are the first part of a sports shoe to go, while the upper still looks good. Now, with new technology, instead of having to spend a hundred or more dollars on a new pair of sports shoes only to have to break them in, you can have your current comfortable shoes resurrected for a fraction of the price.
-Repair or reattach handbag handles or, if need be, make completely new handles to your specifications.
-Re-line the interior of handbags in leather.
– As for alterations; Got an old pair of shoes with an outdated heel? We can change the entire heel to something more modern, something a little higher or lower. While we're at it, you might like us to change the colour of the shoe or the design, or cover a leather shoe in fabric to match an outfit. Almost anything's possible. We can:
– Dye shoes with a spirit dye that soaks into the leather, changing the colour permanently. Dyeing in this way is how leather is coloured in the original manufacturing process. The main limitations of this process are that dyeing can only be done from a lighter to a darker colour – the darker the better, and the article to be dyed must be leather.
– Re-cover shoes in fabric, perhaps to match an outfit. This service is a favourite of brides, but suitable for anyone who needs to match a shoe to an outfit. All you do is provide us with a shoe and the fabric of your choice and we give back a shoe to match your outfit perfectly. It's the ideal way to deal with the problem of finding matching shoes for bridesmaids.
– Alter boots by taking them in if they're too loose or letting them out if they're too tight. Of course, we can replace a broken zipper but we can also put in a completely new zipper where there wasn't one.
– Got a shoe that's height challenged? We may be able to turn it into a fashionable platform shoe for you. Or else, perhaps we can change the heel to something a little higher. Give us a look and we'll tell you exactly what's possible.
– Tired of teetering on thos stilleto's that seemed like a good idea at the time? We can change the heel block to one with a wider base and more support for your foot.
Shoe repair
Bag repair
Creaming
Conditioning
Protection