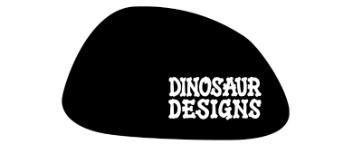 ---
Designers – Louise Olsen & Stephen Ormandy, Australian Hand Made Objects, Homewares,Jewellery.
Mother Nature is our endless inspiration. At Dinosaur Designs we take responsibility for our environmental footprint and support environmentally sustainable initiatives.
Dinosaur Designs has forged an important place in Australian design history. Now in its 27th year and under the sole direction of designers Louise Olsen and Stephen Ormandy, Dinosaur Designs continues to go from strength to strength.
Each piece of resin jewellery and homewares is hand-made in our Sydney studio by skilled artisans under the direction of Louise and Steve. Inspired by art and nature each collection demonstrates the intuitive creativity that shapes their distinctive work in jewellery and homewares and has also informed the development of the company.
DINOSAUR DESIGNS CORPORATE RESPONSIBILITY
We believe in supporting organisations and people who make the world a beautiful and interesting place through art, music, dance, and literature or who work tirelessly to protect the environment.
Dinosaur Designs is a founding supporter of the Museum of Contemporary Art, Sydney, since its inception in 1991 and continues to support the museum through its Ambassador Programme.
Dinosaur Designs is a founding and continuing supporter of the Art Gallery of NSW's Contemporary Collections Benefactors. www.artgallery.nsw.gov.au
In celebration of 20 years since their own graduation from COFA, the Dinosaurs inaugurated the annual Dinosaur Designs award and prize for a graduating student of COFA. www.cofa.unsw.edu.au
Louise Olsen is an ambassador for the National Disability Association's projectABLE, a care careers initiative aimed at recruiting younger skilled workers into the disability sector. www.nds.org.au
Dinosaur Designs has created unique handmade resin trophies for a number of amazing organizations including;
JEWELLERY
Bangles
Necklaces
Sets
Precious Metals
Earrings
Rings
HOMEWARE
Bowls
Platters Sets
Vases
Jars
Dishes
Servers
LIFE STYLE
Side tables
Rugs
Candles
Key rings & Cards
Natural Soaps & Soap Dishes
Chess Set